Lyme Racing Club Sessions over Easter
March 23rd Dustbin Training
 St John Fisher High School, 6.30pm, this is for all ages, cornering skills, riding with others, suitable for Racing, club runs, track, road, MTB we even get some TT riders, it's more than  just about learning how to ride a bike. These will now happen most Mondays for the rest of the year, but not on Bank Holidays or August.
March 24th SQT Wattbike/Turbo session last one, will restart September.
No GO-RIDE Good Friday or Club House.
Monday 6th No Dustbin training, bank holiday.
Holiday Activity Clubs Wed 8th and Thur 9th
Newcastle under Lyme Activity Days
Lyme Racing Club
To be held at Lyme Valley Stadium, Buckmaster Avenue,
Clayton, Newcastle-Under-Lyme.
ST5 3BX
11am till 3pm Daily – Fun/Coaching/ Races
£5.00 per day. 
April 8th Easter Fun day.
April 9th Grass Track Coaching
Suitable for MTB and Cyclo Cross bikes.
April 8th is all about having fun and learning a few skills, winning some eggs, fancy dress is allowed 
April 9th, skils and coaching for the freewheelers league
Age 6 to 14 years old. Riders will be split into ability groups. Novices and race riders. 
Coaching will be on the grassy fields by the track.
Contact Norman Bassett 07803035845 
or Sue Jones 07986958858
This e-mail address is being protected from spambots. You need JavaScript enabled to view it. or This e-mail address is being protected from spambots. You need JavaScript enabled to view it.
Friday 10th GO-RIDE LYME VALLEY
The GO-RIDE starts again down at Lyme Valley on the grass, catering for all ages, we have some great fun, all with the safer conditions of landing on the grass, suitable for all bike types.These sessions are a must do for riders who want to ride in the Freewheelers league who have not been on the track before.
Holiday Activity Clubs Monday 13th and Tuesday 14th
EASTER TRACK YOUTH COACHING
April 13th Novice, April 14th Intermediate
To be held at Lyme Valley Stadium, Buckmaster Avenue,
Clayton, Newcastle-Under-Lyme.
ST5 3BX
11am till 3pm. £10.00 with Track Bike Hire
Novice Track Coaching this session is on track bikes
If a novice has riden April 13th then they will be OK on the April 14th  Session.
Numbers are limited please book in with contacts below
Contact Norman Bassett 07803035845
or Sue Jones 07986958858
This e-mail address is being protected from spambots. You need JavaScript enabled to view it.   or This e-mail address is being protected from spambots. You need JavaScript enabled to view it.
open to non Lyme RC members
If there is a problem with the weather, the sessions may be moved later in the week.
Monday 13th Dustbin Training St John Fisher High School 6.30pm, info above.
Friday 17th GO-RIDE Lyme Valley  6.30pm Info above.
Sunday 19th Derby Club Cluster Session
The Derby, track cluster is for riders 9 to 15, novice to advanced, (riders who, are not riding indoor track league or have track accreditation). Must be British Cycling members, I need to know all those interested by April 1st for this session.
Monday 20th Dustbin Training St John Fisher High School 6.30pm info as above.
Friday 24th GO-RIDE both on the Track and the Grass, 6.30pm, Freewheelers, these sessions will run until mid Sept, apart from a few Fri days in August no sessions. The first Fixed Wheel session on Track Bikes will be May 8th when we have more light.
First Lyme RC Track Night is Wednesday  6th May, Lyme RC Members only Fixed Wheel only starting 6.30pm, If we have enough requests there is a possibility of  Freewheelers from 5.45pm.
Newcastle Track Cycling Association Dates
Mon 27thApril, Race Skills, under 18's and Novice.
Wed 29th April, Sprint and Endurance Experienced only
Mon 4th May Race Skills, under 18's and Novice.
Tues 5th May, Sprint and Endurance experienced move back to their normal Tuesday Slot
Thursday 7th, First Track Night and Freewheelers Race Night.
If you have any questions please Email Norman Bassett This e-mail address is being protected from spambots. You need JavaScript enabled to view it.
Lyme RC are one of the five GO-RIDE clubs to have donation from the Sir Bradley Wiggins Foundation, which will help to move the club forward, it's a big thank you to Sir Bradley and Cath from all at Lyme RC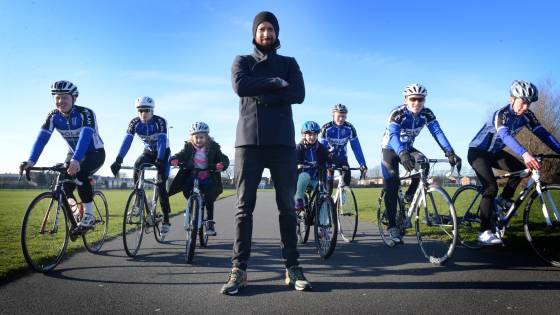 British Cycling great Sir Bradley Wiggins is hoping to help unearth cycling stars of the future after making a donation of £5,000 to five Go-Ride clubs across the North West region.
Go-Ride is British Cycling's development programme for young people. There are 300 Go-Ride clubs across the country in communities and schools, giving young people the opportunity to give various cycle sport disciplines a try.
Currently over 60% of the Great Britain Cycling Team across all disciplines started out at Go-Ride clubs. Three time Olympic champion Jason Kenny and double Olympic champion Laura Trott are notable graduates of the programme.
To announce his donation, Sir Bradley visited Liverpool Mercury CC Go-Ride club at Litherland Sports Park, one of the clubs who will benefit from the donation.
Sir Bradley Wiggins said:
"It was great to take a break from training to meet the young riders down at Liverpool's Mercury Cycling Club this morning.
"I'm proud to donate the money from the Foundation to good causes like this. Local cycling clubs need our support and British Cycling's Go Ride programme does an invaluable job in getting young people started in cycling as a sport.
"I'm in the process of winding down my Foundation now as I concentrate on preparations for Rio 2016. I'm a racer not a fund raiser you know.
"I'll always support the grass roots and encourage young people to take up healthy sports like cycling and I want to thank everyone who's helped me raise fund for the Foundation over the last couple of years; I'm looking forward to delivering a great result in Rio next year."
The Go-Ride programme provided over half a million opportunities for young people to get involved with cycle sport in 2014 alone. Around 90,000 of these opportunities were provided by Go-Ride coaches, with a further 410,000 being provided by 6,000 Go-Ride volunteers.
The programme is further enhanced by Go-Ride Racing - a calendar of entry-level, local racing events that that help young riders make the transition from coaching sessions into club and open regional competitions.
The North West Go-Ride clubs that will benefit from funding are:
Liverpool Mercury CC
Pendle
Ribble Valley Juniors
Lyme Racing Club
Lancaster/Cogset
British Cycling's coaching, education and development director, John Mills, said:
"It's fantastic that Sir Bradley has made this donation. Our Go-Ride programme has proved to be an extremely successful first step on the ladder for so many of the current Great Britain Cycling Team and we want this to continue. Our army of Go-Ride coaches and volunteers do a great job and this financial support will go a long way to supporting the work of these clubs."
Lyme Racing Club Hillclimb, Mow Cop, Sunday 12th October 2014
This year's Lyme Racing Club Hillclimb on the 'Killer Mile' at Mow Cop saw an event record 76 riders on the startsheet, including 14 under-18s. Seven of 2013's top 10 riders returned in 2014, including last year's winner Tejvan Pettinger (SRI Chimnoy Cycling Team) and runner-up Matt Clinton (Mike Vaughan Cycles). Early morning fog soon cleared to give us a great sunny morning for racing.
Early starter Mark Nulty (Manchester Wheelers) led the event for 40 minutes before eventually taking 16th overall – Mark had requested an early start so he could dash off up the M6 to ride the Rake hillclimb at Ramsbottom later in the day. Mark's time was finally beaten by William Kershaw (Macclesfield Wheelers) who would take the 3rd fastest junior prize – Alex Copp (Lyme Racing Club) taking 2nd junior behind teammate Daniel Minor who set a new junior course record of 5:00.1, swiping two seconds off Jack O'Neill's record from 2013 and quick enough for 9th overall.
Of the seven under-16s in the field, Joe Swinnerton (Lyme Racing Club) again claimed the fastest juvenile prize for the 3rd year running, his 5:31.7 just 0.4s outside his own juvenile course record. Swinnerton's teammates Caleb Hill and Alex Coates took 2nd and 3rd juvenile prizes.
Nicola Soden (gbcycles.co.uk) was the fastest of the seven ladies entrants in a time of 6:02.4, ahead of Helen Eborall (Born to Bike – Bridgtown Cycles) and Fiona Prew (Stone Wheelers). Sandra Mackay (gbcycles.co.uk) missed out on 3rd by one second, but had the consolation of setting a new veteran ladies' record of 6:46.1.
Fastest over-40 went to Tony Cope (Leek CC) who also took the prize in 2013. Chris Wilcox (Lyme RC) took 2nd vet, whilst Neil Skellern (Team Swift) broke his promise to never attempt to race up Mow Cop and was pleasantly surprised to take 3rd vet.
Chris Dyke (Manchester Wheelers) was the first rider to dip under 5 minutes this year - his time of 4:49.5 was matched exactly one minute later by Matt Cartlidge (Stone Wheelers) and the two riders would ultimately share 5th overall. 4th place went to Stu Marshall (Team Zenith – Buzz Cycles) just behind teammate Joe Clark who followed up his win in the Rutland CC hillclimb at Mam Nick the previous day by taking 3rd here with 4:28.9.
Matt Clinton took back the course record that Tejvan Pettinger had taken off him in 2013, setting a new mark of 4:22.8, just 0.1s quicker that Tejvan's 2013 time. However, with the seeded riders off at the end of the field 2 minute intervals, Matt's record would only last 1m58s before Tejvan set a new record of 4:20.4 to take the overall win.
I would like to extend my thanks to all helpers, marshals and officials who helped to make the event a success. Many thanks to all riders for supporting the event and I hope to see you all back at the 2015 edition. Lastly I'd like to wish the very best of luck to those competing in the National Hillclimb Championships in two week's time – see you there! Will Corden
Position Rider Club Cat Time
1 Tejvan Pettinger Sri Chinmoy Cycling Team M 04:20.4
2 Matt Clinton Mike Vaughan Cycles M 04:22.8
3 Joseph Clark Team Zenith - Buzz Cycles M 04:28.9
4 Stuart Marshall Team Zenith - Buzz Cycles M 04:44.2
5 Chris Dyke Manchester Wheelers Club M 04:49.5
6 Matthew Cartlidge Stone Wheelers CC M 04:49.5
7 Jack O'Neill Mike Vaughan Cycles M 04:54.3
8 Will Corden Lyme Racing Club M 04:55.0
9 Daniel Minor Lyme Racing Club Jun 05:00.1
10 Mark Tickle Leigh Premier RC M 05:05.5
11 Chris Baines Buxton CC M 05:11.6
12 Alex Copp Lyme Racing Club Jun 05:13.8
13 Ben Norbury Congleton CC M 05:17.5
14 William Kershaw Macclesfield Wheelers Jun 05:20.4
15 Tony Cope Leek Cyclists Club V 05:22.1
16 Mark Nulty Manchester Wheelers Club M 05:23.8
17 Thomas Hanlon Harry Middleton Cycling Club M 05:29.0
18 Wesley Inskip Newcastle Racing Club 2001 M 05:29.0
19 Joe Swinnerton Lyme Racing Club Juv 05:31.7
20 Chris Bailey Swinnerton Cycles M 05:35.7
21 Chris Wilcox Lyme Racing Club V 05:43.1
22 Neil Skellern Team Swift V 05:43.6
23 Joshua Wilkes Lyme Racing Club M 05:45.0
24 Keith Minor Lyme Racing Club V 05:46.6
25 Nick Decker Congleton CC M 05:46.7
26 Olda Novak Uttoxeter CC M 05:46.9
27 Bernard Swinnerton Lyme Racing Club V 05:47.6
28 Simon Hodgkinson Goldtec M 05:48.2
29 Rob Sutton Liverpool Century RC M 05:50.4
30 Oliver Atkin Headquarters Club M 05:51.9
31 Joseph Earley Liverpool Century RC M 05:52.1
32 Darren Perry Lyme Racing Club V 05:54.1
33 Shaun Brassington Uttoxeter CC M 05:55.8
34 Miss Nicola Soden gbcycles.co.uk L 06:02.7
35 Kris Bowditch Lyme Racing Club M 06:04.8
36 Dr. Helen Eborall Born to Bike - Bridgtown Cycles L 06:10.4
37 Phil Birch Headquarters Club V 06:13.9
38 Ben Joughin Newcastle Racing Club 2001 M 06:15.3
39 James Brayford Lyme Racing Club Jun 06:17.3
40 Robert Rhodes Newcastle Racing Club 2001 M 06:19.0
41 Mark Allen Congleton CC Jun 06:22.4
42 John Hines Lyme Racing Club V 06:23.9
43 Matthew Oxby Lyme Racing Club M 06:32.9
44 Caleb Hill Lyme Racing Club Juv 06:35.8
45 Stephen Hall Lyme Racing Club V 06:38.0
46 Eliot Powell Lyme Racing Club M 06:41.0
47 Alex Coates Lyme Racing Club Juv 06:42.0
48 Miss Fiona Prew Stone Wheelers CC L 06:45.1
49 Miss Sandra Mackay gbcycles.co.uk L 06:46.1
50 Miss Iona Sewell gbcycles.co.uk L 06:49.1
51 Miss Claire Munton Vegetarian C & AC L 06:50.0
52 Mrs. Jayne Dickens Stone Wheelers CC L 06:51.1
53 Andrew Prince Crewe Clarion Whs V 07:01.7
54 David Prince Crewe Clarion Whs V 07:15.9
55 Aidan Morley Lyme Racing Club Juv 07:23.0
56 Richard Hunt Lyme Racing Club V 07:31.9
57 Farley Barber Lyme Racing Club Juv 07:38.8
58 Joseph Langford Congleton CC Jun 07:41.1
59 Alexander Powell Lyme Racing Club M 08:00.2
60 Ethan Dakin Lyme Racing Club Juv 08:41.3
61 Brian Powell Lyme Racing Club V 09:44.3
More Photos https://www.flickr.com/photos/grimey_lymies/sets/72157648688257712/
Lyme RC Information Forums for November and December
We have put together some information for parents and youth riders in a forum format at the Club House on Friday Nights and then again repeated by way of the internet on a Wednesdays. 
Outline of the Forums
Wednesday 19th on line only 4.30pm and 8.00pm
An outline of the Forums for the next few months and also so you can see how they are going to work or put another way getting the teething problems out of the way.
Training for Youth Riders
Friday 21st November, Club House 8.15pm, Wednesday 26th, on-line 4.30pm and 8.00pm.
We will discuss, how much training each of the youth age groups are recommended to do and what type of training. Looking at how to use turbo trainer's and rollers, why it is important to get the longer rides in, club runs etc.
British Cycling Racing Pathway
Friday 28st November, Club House 8.15pm, Wednesday 3rd D, on-line 4.30pm and 8.00pm.
We will discuss the racing pathway for youth racers, looking at races, were to find them, what type for each of the age groups and taking experience in to account. How the British Cycling system works and the advantages you have with being in a GO-RIDE Club.
Annual Planning and Goal Setting
Friday 5th Dec, Club House 8.15pm, Wednesday 10th, on line 4.30pm and 8.00pm.
We will discuss how to plan the year for youth riders, goals and then for older youth riders making up their training plans to improve their fitness and skills for goals they have set.
In January we will have follow up forums on the training, bike fit, how to book races,  nutrition, what to do at a races(preparation and race tactics).
If you to take part in the ON-LINE forums you will need to Email This e-mail address is being protected from spambots. You need JavaScript enabled to view it. with your email address and which forum you would like to join. Ideally a computer with webcam and mic, but you can use a tablet or phone. You will be able to see what is on my laptop on your screen and my webcam.
A link to GoTommeeting. http://www.gotomeeting.co.uk/  have a look.
You will be emailed a link 30 minutes before the allotted time which when you click on will take you to the meeting.  If it is the first time you have used GoTomeeting it will take 30sec to down load the information.
OCTOBER CALENDAR
Due to October being a bit of a change over month I have produced a calendar to help member to see what is on.
Sept 30th, first Wattbike, this week will be a test and come and try night. Biddulph High School Conway Rd, Knypersley, Stoke-on-Trent ST8 7AR
October 2nd, Wattbike/turbo session at Biddulph High School Conway Rd, Knypersley, Stoke-on-Trent ST8 7AR
October 3rd, GO-RIDE at the Club House 6.30pm, 7.15pm Rollers for all, riding the rollers skills and training. Whitfield Community Centre, Whitfield Avenue, Newcastle under Lyme, ST5 2JQ
October 7th First Wattbike League 6.30pm.
October 9th Wattbike/turbo session 6.30pm
October 10th GO-RIDE AND ROLLERS.
OCTOBER 12TH Lyme RC Hill Climb, Mow Cop. Entries close Sunday 5th October, no entries on the day, first rider of 10.01am. More information on the Lyme RC Forum.
October 14th Wattbike League
October 16th NO session due to the un-availability of the school.
October 17th No Club House, The 2014 Track Prize Presentation will take place on Friday 17th October 2014 at
St John Fisher Catholic College, Ashfields New Rd, Newcastle-under-Lyme, Staffordshire, ST5 2SJ
Rollers racing for under 16's will commence at 7.15pm with the main prize presentation taking place at 8.15pm.
October 21st Wattbike League
October 23rd Wattbike/turbo session 6.30pm
October 24th 6.30pm GO-RIDE AND ROLLERS the rollers will finish at 8.00pm.
8.00pm Lyme RC AGM This has yet to be confirmed.
October 26th Lyme RC Black Bank Hill Climb. Sign on 10.15am , First rider off 11.01am,
There will be the usual 3 categories:
                                  Up the Road ( for anyone over the age of 12yrs), Up the Pavement ( for Under 7's & for under 12's),                   Up the Verge (for MTB riders)
The 'Up the Pavement' category will determine the 2014 Under 7's Hill-Climb Champion & Under 12 Club Hill-Climb Champion girls/boys.  More information will be emailed out closer to the day.
October 28th No Wattbike League Half Term
October 30th Wattbike Turbo session 6.30pm
October 30th and 31st
Newcastle under Lyme-Activity Days
 Lyme Racing Club
To be held at Lyme Valley Stadium, Buckmaster Avenue,
Clayton, Newcastle-Under-Lyme.
ST5 3BX
11am till 3pm Daily – Fun/Coaching/ Races
£5.00 per day.
October 30th Cyclo Cross Coaching Day
October 31st Halloween Fun day.
Suitable for MTB and Cyclo Cross bikes.
Halloween Fancy dress Fun, with Sue the Witch, Vampire and Zombie Coaches
Age 6 to 16 years old. Riders will be split into ability groups. Novices and race riders.
Coaching will be on the grassy fields by the track.
Contact Norman Bassett 07803035845
or Sue Jones 07986958858
This e-mail address is being protected from spambots. You need JavaScript enabled to view it. or This e-mail address is being protected from spambots. You need JavaScript enabled to view it.
October 31st 6.30pm GO-RIDE AND 7.15pm ROLLERS
Looking ahead in to November.
Nov 4th No Wattbike League, the School is not available sorry.
Nov 6th Wattbike Turbo session 6.30pm
Nov 7th THIS IS THE LAST FRIDAY NIGHT GO-RIDE OF THE YEAR, AS LAST YEAR WE WILL BE HAVING SOME FIREWORKS AND ALSO AVAILABLE, HOT DOGS AND SOUP PLUS ALL THE NORMAL FAIR, COME DOWN TO CELEBRATE,
From Nov 14th Friday Nights, MTB Coaching from 6.30pm, Youth Turbo sessions from 6.30pm, Rollers from 7.30pm.
The above sessions are subject to change due to the weather and also we may have some of the equipment from the funding. The lights will allow more outside coaching and the rollers more racing.